[ad_1]

After 35 years selling his passion, Craig Satterfield has a $2 million agency to show for it. Photo: JustDance/Shutterstock.com.
When travel professionals take to the stage at industry conferences and stress the need to follow your passion, they might as well invite Craig Satterfield to stand up and be noticed. Satterfield has been a travel advisor for 35 years and, from day one, he knew his focus would be cruises. It was his first love in the business, and today, he has a $2 million agency to show for it.
"I was committed to the cruise industry way back when nobody was," Satterfield said. "I was selling cruises and no air at a time when there was still commission on air. Air didn't interest me. I wanted to follow my passion and share it with people. I was sort of ahead of my time."
Satterfield reminisces fondly about what a different travel landscape it was when he chose to make cruises his bread-and-butter. "In those days, you almost had to book a year in advance. People understood the value of a cruise back then and they would cruise every year. The people were 'cruising insiders' because they understood something others didn't know. And the lines were much more inclusive with amenities than they are today. And, demand exceeded supply."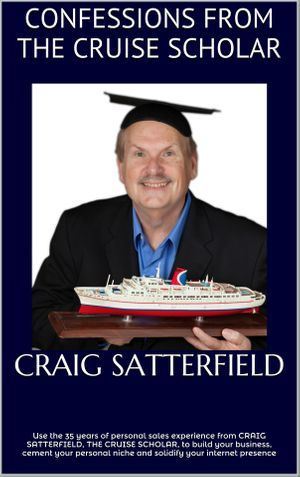 Confessions of a Cruise Scholar was first published in 2016.
Satterfield's knowledge and experience has taken him far as a travel professional, and three years ago, he decided he wanted to share his expertise with his peers. What better way to communicate his message, he thought, than to write his own book.
"Confessions from The Cruise Scholar" was published in 2016. It focuses on tips that will help travel advisors build their business and cement their personal niche – which may or may not be cruise. In the book, Satterfield has compiled his sales secrets and shares them in standalone, self-help chapters. Some of the topics explored include: personal branding, internet dominance, making money hosting groups, finding luxury clients, creating your niche, and more.
Satterfield said: "Confessions is not a 'how to be a travel agent book.' It's really designed for people who are already in the business, but provides them with the potential of what's out there. It reminds them what they are doing right and not necessarily what they haven't done."
The book design of standalone chapters was intended for self-help use, according to Satterfield. For example, there are chapters on telephone etiquette; and one on how to get the best out of attending a travel trade show, which addresses the need to pace yourself, and even what shoes to wear.
Dispelling stereotypes of cruise lines is another topic explored, and one that Satterfield is particularly bullish on. "I think the worst thing an agent can do is pigeonhole a cruise line. I think it's a matter of not having enough training when they label one particular line for one type of client."
Location, location, location
While experience has brought Satterfield to the successful travel business he operates today, his location in Vero Beach, Florida, doesn't hurt either. Born in California and a former resident of Las Vegas, Satterfield made the jump to the east coast about two and a half years ago for many reasons, one of which was to be closer to all the cruise action that was taking place in Florida.
From his new home, Satterfield is able to attend many cruise ship industry events, and most importantly, take part in numerous ship inspections. He has found the ideal home to feed his passion, and thirty-five years later, cruises are still his main focus.
[ad_2]

Source link
https://genshai.com/wp-content/uploads/2019/02/GetImage
799
1200
GENSHAI-NEWS-ARTICLES
https://genshai.com/wp-content/uploads/2018/09/genshai-official-site-2.png
GENSHAI-NEWS-ARTICLES
2019-02-04 16:09:18
2019-02-04 16:09:18
One Travel Agent's Passion for Cruises Leads to a Book